Post by Caleb&Callum Reynard on Jan 17, 2016 13:44:02 GMT -5
---
---
---
Caleb Reynard
Playby- Ethan Dolan
Basic Information
Age
17

Race
Ocean Type Kitsune

Eye Color
Light Blue-Green

Abilities&Powers
Ocean-based FoxFire
Control over any current based water flow
Slight Illusions

Weapons
Katana Sword
Callum Reynard
Playby- Grayson Dolan
Basic Information
Age
17

Race
Thunder Type Kitsune


Eye Color
Light blue


Abilities&Powers
Thunder-based FoxFire
Control over thunder
Slight illusions


Weapons
Katana sword
---
---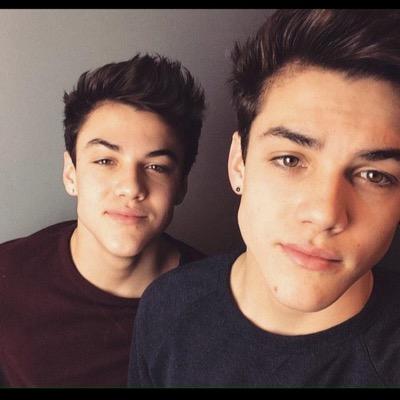 Personalities
Caleb is wild, but, his brother, Callum
has him beat on this. He tends to love
being the center of attention and is
typically the leader out of the twins.
He usually runs the ideas he has
through his twin first, but, it is rare
for Callum to disagree with whatever
plan it is that Caleb has come up with.
The Twins typically can read each other's
every move and because of this, they
are incredibly cocky when they fight.
Like most epic stories, the twins
biggest downfall is their Hubris.
Goals
The twins are typically level headed
when it comes to killing. Nobody
should enjoy killing, or at least that
is what the twins believe. They have
heard of supernaturals who get a thrill
out of killing those who are innocent
and because of this, they have sworn
to bringing an end to any being, whether
it be human, hunter, supernatural, etc.
They have an allegiance with the hunters
simply because in their time, they have
come across many supernaturals who prey
on those weaker than they are. The hunters
seem to share that goal with them and because
of this, the twins have typically decided to
side with the hunters. If an opportunity
arose where the hunters were in the wrong,
the twins would fight against them just as
they fought the supernaturals. Their goal
is to bring peace back to the world and to
bring back the memories of their parents.

---
---
Yin&
Yang
The twins had grown up in what would seem like a very strange house. They were raised like all Kitsune, they learned the ancient stories, learned how to control their FoxFire, the works. But what made their growing up so much different, was who their parents had been. Their mother had been Yang, a dark Kitsune, also known as a Nogitsune. She truly was evil, and has been doing everything in her power to corrupt the twins to become like her. The balance is strange though, because their father, Yin, is a Celestial Kitsune. The two were strangely in love, the good and the bad, the celestial being falling for the voidling. It was unheard of in the Kitsune realm and many looked down on them because of that. Originally, Yang, their mother, had been a Sound Type Kitsune. She still holds these powers, but they have become weakened since she was corrupted. As for Yin, their father, he had been a Time Type Kitsune. And as went for Yang, he too lost parts of his powers when he became celestial. It is unknown how one can become Celestial or Void, but, it is theorized that it is born into their soul. Because of that, the twins have a balance that can quickly go out of control to turn them towards Celestial beings or Nogitsune. Both have agreed to stay by the others side until they pass the stage where the transformation can no longer happen, they both agreed to stay by the others side until they turned 18. They would hold true to their natural types, the Ocean and the Thunder.
The Judges
The twins got their title because before killing somebody, they would look into that person. They would learn every sin, good deed, everything that they had done in their past. They looked to the nature spirits within them to learn the facts of those around them and before killing or sparing them, they judged them. If they were guilty, they were killed. If they were found innocent, they were only injured and left to live. Very few occasions have crossed the twins where they have found that one they were sent after had actually been found innocent. Recently, they have had a few cases placed before them that they are undecided on their judgement, and have been putting off the hunt for these supernaturals. The time may be slowly approaching where they must make their move though.
Becoming Hunters

While the twins traveled together, they came across an organization that had been known to hunt down evil supernaturals. They searched for them, they searched for the hunters and when they found them, they were attacked. They judged the hunters and killed many, but spared a few. They explained why they were there, explained why they had searched them down and explained that they wanted to help. The Hunters saw this as an opportunity and brought the twins into their training program. They were taught to fight, spy for information like all hunters were, but the thing that always stood out was that the twins were always stronger than the others in their program. They quickly became the most disliked hunters in the entire organization. The twins didn't mind this though, they were still the ones that did the judging, not the other way around. A few years passed and they saw that the hunters weren't just hunting the evil supernaturals. They were hunting and experimenting on all types of supernaturals and they began to distance themselves from the hunters. They began to hunt the evil hunters as well. They became The Judges.

---
---
---


Notes:
Their powers are still currently coming to them. With each new power, they will gain a tail, and once they possess all nine tails, they will be able to do everything that a Kitsune is able to do.


Colors:
Caleb 19e6cd
Callum 2c9cdb
Both 848c91